We offer a personnel service allowing us to design your system using the latest PV Software, the process is explained from start to finish incorporating the feeding tariff information, and the benefits from Renewable Technology.
We do not employ sub contractors or salesmen, we control the whole process from initial enquiry & consultation to commissioning your PV System and handover of your Solar Handover Pack containing all your certificates required to claim your Solar PV feed in tariff and guarantees.
Experienced Solar PV Installers
MCS Solar PV Accredited Installers
RECC Assurance Members
Green Deal Approved Installers
Part P Registered Electrical Contractors
Typical Investment Return
Installing Solar PV, can give up to 15% return per annum, an investment which is tax free, payments guaranteed for 20 years, increasing with inflation each year.
If you installed a 4 kW system linked to the Feed-In-Tariff you would receive 12.47p/kWh for every unit you generate and you can also receive an extra 4.85p/kWh for any surplus electricity that you don't use and is exported back to the National Grid.
Incentives
Government Green Deal
Due to the increase in fuel bills and energy consumption, the government is keen to save energy, by offering households & businesses incentives. If you would like to know more about these incentives, please contact us for more information or go to the the energy saving trust website by clicking here.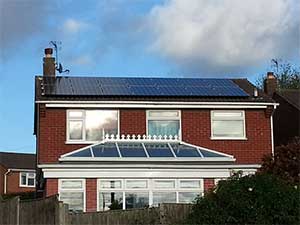 We would both like to say we were very impressed with both the professionalism of yourself and your wife. When we left a message on your answerphone the return call was almost immediate. The pre-sale information was excellent and very informative – you are not a pushy salesman but you were honest in what information you gave us.
The workmanship was excellent and no mess was left. We were impressed with the after sales service, your help in completing all forms was appreciated.
The only issue was with the gas company who we registered with as they kept stalling the first payment.
Once again, thank you
Jackie & David Cross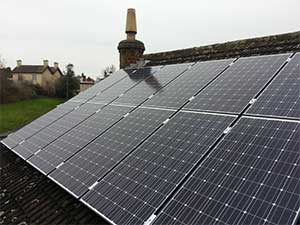 Mr & Mrs Turville Oakthorpe
Mr & Mrs Turville Would highly recommend M J Electrical. They were very helpful and explained
everything with a very comprehensive and useful pre sales information package. The product is high
quality for a very competitive price.
Regards, Mr & Mrs Turville.