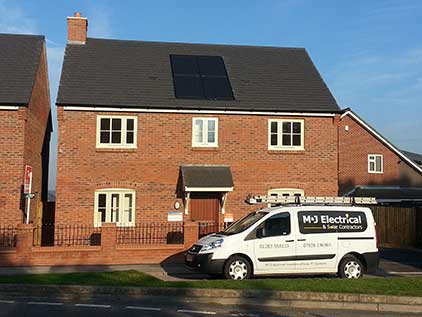 We offer a personnel service allowing us to design Install and commission your PV System. This process is explained in detail from start to finish incorporating any information regarding Smart Export Guarantee incentives
Our company has developed a passion for renewable technology & understand the need for climate change.
We understand this can not be achieved over night, however by Introducing energy saving measures we can all help reduce our carbon footprint. (save money with the new Smart Export Guarantee).
Experienced Solar PV Installers
MCS Solar PV Accredited Installers
RECC Assurance Members
Battery Storage Installers
Part P Registered Electrical Contractors
Typical Investment Return
Initally Solar PV can give up to 15% return per annum, an Investment which is tax free.
If you were to install a 4 kWp system linked to the new Smart Export Guarantee you can receive payment fore the export of any energy to the National Grid.
If you Installed Battery Storage Power in addition to your system, you could use the energy that is generated during the daytime to power your home at night. This helps to reduce your spending on energy bills!
Incentives
SMART EXPORT GUARANTEE (SEG TARIFF)
This is a government scheme that allows households to get paid for any renewable energy they generate.
The electricity generated from natural sources for example solar panels; this allows you to sell any energy you don't use to the National Grid.
For example if you Installed a 4kWp system linked to the Smart Export Guarantee you could qualify for this new scheme, provided your Installation is by an MCS registered contractor.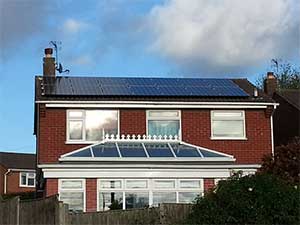 We would both like to say we were very impressed with both the professionalism of yourself and your wife. When we left a message on your answerphone the return call was almost immediate. The pre-sale information was excellent and very informative – you are not a pushy salesman but you were honest in what information you gave us.
The workmanship was excellent and no mess was left. We were impressed with the after sales service, your help in completing all forms was appreciated.
Once again, thank you
Jackie & David Cross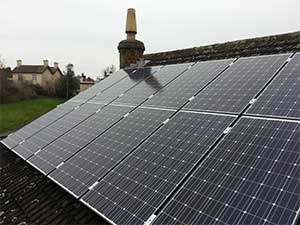 Mr & Mrs Turville Would highly recommend M J Electrical. They were very helpful and explained everything with a very comprehensive and useful pre sales information package. The product is high quality for a very competitive price.
Regards, Mr & Mrs Turville.